Senior Test Automation Engineer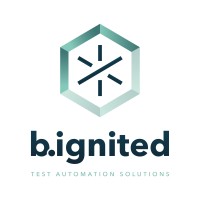 Uw rol
Test Automation Engineer
Senior
Voltijd
Wat we bieden
Opleidingen en training
Over ons
Consultancy, Start-up
22 Medewerkers
Uw rol
Test Automation Engineer
Senior
Voltijd
Wat we bieden
Opleidingen en training
Over ons
Consultancy, Start-up
22 Medewerkers
We are looking for a passionate Test Automation Engineer to join our growing team. Your main focus will be developing test automation environments. But we will give you opportunities to grow in the fields of your preference.
Uw rol
Actively participate in a development environment as a test automation specialist;
Building the necessary interaction with development and business to create a good relationship from which quality software emerges;
Assisting the development team in the creation of automated tests;
Building functional and non-functional tests using tools and/or test frameworks;
In consultation with the analysts and development teams, you will determine which features definitely need to be automated;
Performing manual testing on features that are not (or cannot be) automated;
Reporting the test results to the team and management;
Taking a critical look at the existing testing process in order to determine whether improvements are possible.
Help improve and build on existing automation frameworks (Java, .NET, etc.)
Bringing ideas to workshops (new technologies, tools, solutions, etc...)
Act as the point of contact for b.ignited in your technical specialty
Inspire junior b.ignited colleagues
---
Uw profiel
You have a solid experience with software testing, multiple test automation tools and frameworks;
You have a big IT-related technical baggage;
You are in possession of the ISTQB certificate or you are willing to obtain it;

ISTQB Advanced Level Test Automation Engineer certificate is a plus
ISTQB Advanced Technical Tester certificate is a plus

You have an eye for detail and are quality oriented;
You have good social skills;
You are looking for a challenge in your job, learning and figuring things out is a hobby;
You are willing to work at customers in the triangle of Brussels-Antwerp-Ghent.
You have a good knowledge of Dutch and English. French is a big plus.
It would be great if you have knowledge or experience with:

JUnit testing, Webdriver, Selenium, Cucumber, TestNG, ...
Python, Java, C#, .NET, ...
Visual Studio and Coded UI
Oracle, DB2, MySql, ...
Jenkins, Apache, Tomcat, Bamboo, ...
Linux
Loadrunner, UFT, SoapUI, Jmeter, ...
Jira, Mantis, Bugzilla, Phabrikator
Appium, Selendroid, Graphwalker, ...
Model Based Testing
In deze baan vindt u:
Specialisme
& Creativiteit
& Diepgang
& Invloed
& Structuur
& Sociale contacten
Wat we bieden
You will become part of a fast growing and dynamic company that is open to your input and ideas;
You will receive a competitive salary and a complete benefits package (company car, fuel card, laptop, cell phone subscription, insurances, Cronos Care benefits etc.);
You will work in a no-nonsense environment with direct access to management and become part of the renowned Cronos Group;
You will get the opportunity to participate in internal and external training, seminars and knowledge sharing events;
Depending on your motivation, ambitions and performance, we can offer you numerous interesting career opportunities;
You will be supported by b.ignited consultants with extensive experience.
---
Over ons
If you ask our team how they would describe the core business of b.ignited in one sentence, they will say: we produce no-nonsense software, automated by testing wizards. And honestly, we cannot find a better way to say it ourselves.
Helping our customers produce quality software is what we do best. Being on top of technology is only one of our objectives. By making sure our team has everything they need to create the best Test Automation solutions, going from the right knowledge to the eagerness to start a project, we want to be the best partner for qualifying their software products.
Onze locatie
Veldkant 33a Kontich